Spotlight: Update Your Updo With A Braided Twist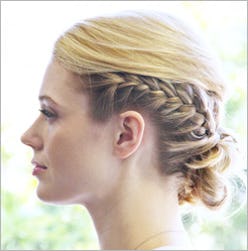 When it comes to our hairstyle for a night on the town, we tend to take the occasional risk—what's the fun in playing it safe?! Our latest PM 'do du jour is this peekaboo braid upstyle created by Joico hairstylist Katie Bilovol. Attempt the second tutorial in our summer braid series for your next rooftop soiree or cocktail event—your locks just might steal the show!
Click through to learn how to fashion your locks into an edgy, braided updo!
Step One
Separate the top portion of your hair (from the crown forward) and pin out of the way.
Step Two
With the remaining bottom portion, separate hair into two pieces with one section slightly off center.
Step Three
With the smaller portion of hair, begin a French braid from the temple.
Step Four
As you continue, make sure to keep the French braid tight to your head.
Step Five
When you run out of hair along the hairline, finish with a regular braid.
Step Six
Fasten the braid with an elastic when you reach the halfway point down the smaller portion of hair. Then switch to the heavier portion of hair and brush into a smooth, low ponytail.
Step Seven
Twist the ponytail and wrap it around itself into a knot shape. When secured, pinch some strands from within the knot, pulling them out lightly to create texture.
Step Eight
Fasten the twist underneath itself by grabbing hair from the knot and pulling it into the rest of the hair, securing around the bun.
Step Nine
Grab your braid and fasten it over the top of the twist, pulling some of the strands out for texture.
Step 10
Twist the braid underneath the bun and secure with bobby pins.
Step 11
Finish the twist with a dose of texture wax spray to keep the look extra tousled—no stiffness here!
Step 12
Release the top portion of hair and make sure it sits the way you prefer around the fringe/part area.
Step 13
Twirl your hair up and around the bun so it sits just above the braid and the twist.
Step 14
Tuck that portion under and around the twist, securing with bobby pins where needed.
Finished Product
Voila! A gorgeous braided updo is now yours to rock.