Easy Nail Art Designs We're Obsessing Over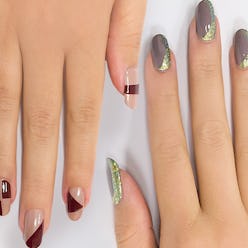 If you ask us, you can never have too many nail-art design ideas. With that in mind, we teamed up with Caption Polish–a new hot nail polish brand–to create 4 manis you can definitely do at home. From geometric shapes to colored cuticles, these looks couldn't be any chicer or easier to create. Get the steps for each style and shop our favorite colors. You'll be glad you did.
Geo Mod
Start with a base coat and paint all nails with a thin layer of nude polish.
With a striping tape, create geometric shapes in varying shapes and sizes on each nail. Paint inside the taped-off shapes with a burgundy nail polish.
Peel off tape and seal with a clear topcoat.
Smoky Prism
Start with a silver glitter polish on all nails. Keep layers thin to prevent smudging between steps.
With a metallic silver polish, create a diagonal line across the tip of each nail. For better precision, use a striping tape to create a straight line.
Repeat the same step across the tip, using a dark gray and going in the opposite direction.
Cool Cuticles
Apply 2 coats of white polish on all nails and let dry completely.
One nail at a time, paint over the white with a black polish, only leaving the color closest to the cuticle exposed.
Seal with a clear topcoat.
Lunar Phase
After applying a base, paint 2 coats with a taupe lacquer.
With an iridescent green polish, create a crescent shape from the cuticle to the tip of the nail. Once all nails are done, go over the crescents with a gold glitter lacquer.
Top with a clear or matte topcoat.