8 Ultra-Easy Hair Updates To Try This Fall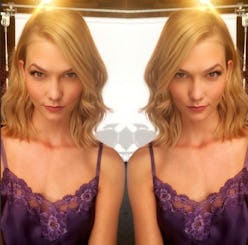 The start of fall means one thing for your hair: an opportunity to break from low-key styles and general messiness and embrace something more refined and polished instead. That said, contrary to popular belief, you aren't required to go out and get a severe cut and some not-from-nature color. Here, celebrity stylist Jen Atkin shares 8 genius ways to transition into the new season without taking things quite to the extreme.
Fall Hair Idea: Soften Harsh Ombre Color
"There comes a moment in every woman's life when it's time to let go of her ombré. One quick, non-commitment fix is to ask your colorist to add a toner. A glaze that is 1 to 2 shades darker will fill the blonde while maintaining a bit of color gradation."
Photo: FirstView
Fall Hair Idea: Let It Grow Out
"This might sound boring, but I love the idea of letting hair do what it does best…grow. I'm loving longer lengths for fall. All-one-length is clean and elegant and minimal layers work too, if you feel your hair needs some movement. With long, simple hair, the styling possibilities are endless too."
Photo: FirstView
Fall Hair Idea: Try Uniform Waves
"I love messy waves but now that fall is here, a more polished look is in order. Whether left with a frothy finish or smoothed with a light styling cream, uniform waves are so luxe and pretty. For volume apply R+Co Death Valley dry shampoo to roots. To streamline any strays Leonor Greyl's Eclat Natural is my go-to. It smoothes without being too heavy and gives the right amount of structure."
Photo: @jenatkinhair
Fall Hair Idea: Skip The Dye
"If you're working on a budget, my opinion is to invest your money into a great haircut. A skilled stylist will be able to give you a cut that works with your existing color. In fact, some of the best hair color I've seen has come from a grown-out, reworked job."
Photo: FirstView
Fall Hair Idea: Try A Hair Diet
"The saying is true: you are what you eat. Keep your diet full of fresh produce, live foods, and vitamins and your hair will look better than ever. Biotin, Viviscal, Priorin, vitamin B12, iron, zinc, vitamin C, and fish oil are all supplements that will get your hair in great shape and help you grow out last season's cut."
Photo: FirstView
Fall Hair Idea: Create Quick Curls
"Create pretty waves overnight with this recipe: After a shower, when hair is 90% dry, apply a bit of styling cream from roots to ends. Section hair into two or four sections depending on the size of curl you want. Take each section and twist away from the face, then coil down into a bun and secure with a hair elastic. When you wake up, tousle hair with your hands to release the curls."
Photo: @jenatkinhair
Fall Hair Idea: Go Dark
"Using deposit-only colors are a great way of making a dramatic hair color change that promotes healthiness. Wether it's cool hues to tone down that summer warmth or deep, dark colors, reminiscent of all things lush and luxurious, all-over color is definitely sought after this season."
Photo: FirstView
Fall Hair Idea: Use Your Hands To Style
"Learn to use your hands as a styling tool for great natural texture and break away from using harsh irons and dryers. Smooth and straighten by continually running your hands over sections of hair like a flatiron as it dries. A little bit of product will help move things along too; use an oil to smooth hair or a dry shampoo for grip and texture."
Photo: @jenatkinhair