The Exact Routine To Follow If Your Skin Is Super Dry
Michael Stewart/WireImage/Getty Images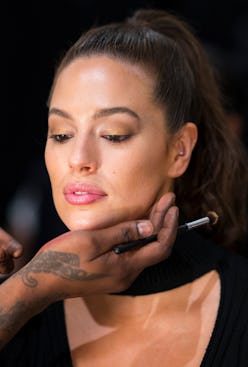 If you have dry skin, you know that, once winter arrives, the battle begins. Of course, it's something you deal with year round, but the chillier temps tend to aggravate already dehydrated complexions. Therefore, following a skincare routine for dry skin will aid in achieving a smooth, flake-free mug, even on the most frigid of days.
First off, consider differentiating your morning and nighttime routines. "Your morning routine should focus on protecting your skin from the environment, including UV and environmental pollutants, while your nighttime routine should focus on repair," Dr. Michele Farber, MD of Schweiger Dermtology Group in New York City, tells TZR. "Use a gentle moisturizer and sunscreen in the morning as well as antioxidants like vitamin C serum to protect from the elements. Nighttime is when you use retinol, as tolerated in sensitive skin, and hydrating moisturizer."
Ahead, follow the steps to conquer dry skin, once and for all.
We only include products that have been independently selected by The Zoe Report's editorial team. However, we may receive a portion of sales if you purchase a product through a link in this article.
Cleanser
When choosing a cleanser, Dr. Farber recommends looking for one that hydrates rather than strips your skin of moisture. CeraVe's Hydrating Facial Cleanser, which includes ceramides and hyaluronic acid, is a particular favorite of hers. And for those who suffer with redness, consider products with niacinamide as it aides with inflammation.
Toner
If your skin is sensitive, Dr. Farber notes it's best to take it easy with toner. But if you do want to use one to get rid of leftover makeup, opt for a formula that's alcohol-free.
Serum
"Serums pack a punch of concentrated ingredients," Dr. Farber explains. In the morning, pick a product that contains vitamin C for antioxidant protection. The dermatologist suggests either Skinbetter's Alto Defense (which is only available through authorized physicians) or SkinCeututicals' CE Ferulic. And for night, a serum with retinol is a good option. "Retinols can also be applied in serum-form; bakuchiol, a naturally derived retinol is often more tolerable for dry skin."
Moisturizer
To give your skin the hydration it needs, pick a moisturizer with ceramides, glycerin, or dimethicone. "Dry skin often needs thicker moisturizer; choose a non-comedogenic or oil-free formulation like CeraVe Cream, or La Roche-Posay Toleraine Double Repair," Dr. Farber notes.
Eye Cream
Since the under-eye area is more sensitive than others, it's a lot drier, too. To protect the delicate area, be sure to use a rich eye cream every night before bed.
Sunscreen
Of course, you'll want to slather on some good ol' SPF in the morning. No matter the season, you need to keep your skin safe from the environment. Consider a serum-like formula that won't give you a streaky white finish.
Face Mask
To give you skin even more moisture, incorporate face masks into your regimen. "Choose hydrating masks with ingredients like colloidal oatmeal, hyaluronic acid that hydrate and antioxidants like green tea and vitamin E," Dr. Farber notes. "Sheet masks are popular and great for hydration, just keep in mind they are occlusive and helping expose a high dose of active ingredients to the skin."
This article was originally published on