Drugstore Beauty Buys To Pack On Vacation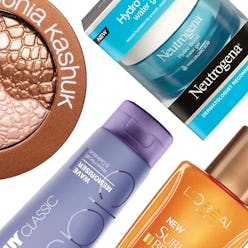 If you're ever looking for your next go-to drugstore beauty product, put it to the test by wearing it on a warm day. From a self tanner to a creamy concealer, these 7 vanity staples won't melt off, crease or leave you feeling dry when you need them the most. And did we mention these are all under $25? Sold!
Must-Have Tanner
As the temperature rises, so do hemlines. This silky serum soaks into skin to give you a streak-free and not-orangey glow in seconds.
Illuminating Bronzer
Swirl the 2 shades together and apply them to the high points of your face to look sunkissed and dewy all at once.
Skip-The-Blowout Hair Cream
Who wants to sweat under the heat of a blow-dryer when it's hot out? Instead, apply this lightweight cream to damp strands to give your hair a beautiful beach wave.
Bulletproof Concealer
Finding a concealer that goes on creamy and doesn't settle into fine lines is difficult (to say the least). This one won't budge and the SPF in it makes it ideal for days in the sun.
Lifesaving SPF
This SPF protects your skin to prevent sunspots, freckles and melisma while working to fade the appearance of past damage.
Convenient Lotion
Tote this aerosol spray in your beach bag without worrying about it spilling or exploding to moisturize your skin on the go without feeling greasy.
Ultra-Moisturizing Face Gel
Keep your complexion looking dewy and insanely hydrated with a hyaluronic acid gel. Your skin has never felt so moisturized for so long.