5 Things To Know Before Wearing A Bold Eye Shadow Look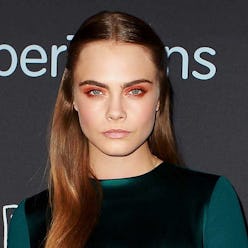 Rocking a bold eye shadow color can be intimidating, not to mention insanely tricky. But as seen on Cara Delevingne at her Paper Towns movie premier, stepping out of your comfort zone can be worth the risk. Here, 5 tips for pulling off unexpected eye makeup without looking like you're wearing a costume.
In The Red
Photo: Getty Images
Wear A Yellow-Based Eye Primer
Use a primer on the entire lid that contains yellow undertones. This neutralizes redness or other discoloration on the eye area that can effect the color of the shadow.
Don't Go Up To The Brow Bone
When trying a bold-colored shadow, only apply it on the lid and up into the crease–do not extend it onto the brow bone. For added drama, add the same color to the bottom lash line, starting at the outer corners and stopping midway in.
Skip The Eyeliner
A brightly colored shadow can stand on its own. Refrain from lining the eye and move straight into curling your lashes and coating them with a waterproof mascara.
Wear a Barely There Lip
The last thing a red eye shadow needs is a matching lip. Instead, wear any bold eye looks with a nude lipstick or a natural looking gloss.
Coordinate With Your Outfit
We love that Cara complemented her green eyes with a red eye shadow, but not all of us were lucky enough to be born with emerald peepers. An easier way to coordinate your look is to pair an outfit and eye shadow shade in a complementary color.