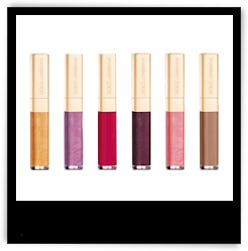 We don't mean to toot our own horns, but we know a thing or two about lip gloss. Implemented into our routine at an early age—who could forget the vanilla-scented wands of our adolescence?—the beauty staple has seen us through school dances, job interviews and date nights alike. As far as present-day goes, we're puckering up big time to Dolce & Gabbana's Intense Colour Gloss!
New on the market from the luxury label, this reflective formula delivers an eye-catching dose of color and shine to one's lips in a simple swipe. Available in eight prepossessing shades that are suited for any occasion—each infused with a subtle rose scent—the shimmering gloss will complement both daytime and evening ensembles with an element of glamour. Are you ready to try something other than your go-to gloss? Change up the game this season with the help of Dolce & Gabbana!
Availability: Dolce & Gabbana Intense Colour Gloss ($31 each). For additional information, visit Dolcegabbana.com.