Do Sculpting Creams Really Work? We Put One To The Test & The Results Say It All
Trying out StriVectin's new Contour Restore Tightening & Sculpting Face Cream.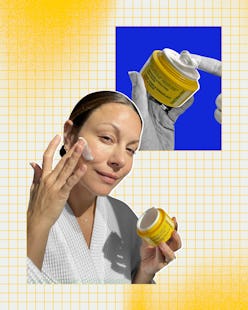 Contrary to what social media might tell you, there's no right or wrong way to approach aging. When it comes down to it, it's a deeply personal experience that varies from person to person. Multi-hyphenate beauty expert Sunnie Brook, for instance, tells TZR that she prefers using high-quality skin-care products to keep her complexion healthy and youthful-looking. "I have sensitive, combination skin that tends to be on the drier side as I'm getting older," she says. "I'm turning 41 in about two months and prefer finding non-invasive ways to keep my skin looking firm and even as I age."
One such way the California native has been doing that is with StriVectin's new Contour Restore Tightening & Sculpting Face Cream. In fact, Brook put the high-tech formula to the test for a full month — applying it both morning and night as suggested — and her results have been nothing short of beautiful. "Most of the tightening creams I've tried have irritated my skin, but this one has noticeably reduced the look of fine lines and wrinkles around my mouth and visibly tightened my jawline without any issues," says the mom of one. "I've also noticed my skin looks plumper and more even, and my frown lines are less noticeable."
How does StriVectin's latest innovation do it, exactly? Through a combination of clinically proven ingredients — one of which is the brand's patented form of niacin/vitamin B3 known as NIA-114, which helps strengthen the skin's protective lipid barrier to keep it healthy and resilient. Additionally, the next-gen formula contains elastin-targeting dipeptides and glycolipids to enhance skin plumpness and stave off sagging, as well as thyme extract liposomes that further aid in visibly restoring volume and fullness to the face. When combined, all of these MVP ingredients work to target skin's natural elastin for plumper, firmer, and more sculpted-looking skin overall. (And in a month's time, no less.)
After nearly five weeks of using the brand's new peptide-packed cream day and night, Brook is completely sold on the benefits — so much so, that she says she plans on using the formula for years and years to come. "I'm definitely keeping this on my shelf and need to get one for my husband, too, as he's started using mine!" she adds. On top of the skin-tightening benefits, Brook notes that she adores the creamy, lightweight texture, as it easily absorbs into her skin and allows her apply makeup right away without any peeling or caking.
"I would 100% recommend this cream to anyone looking to have visibly tighter, glowier, and more even skin," says Brook without hesitation. If you, too, are looking for a non-invasive way to visibly firm up your skin, you can't go wrong with this top-notch new formula from StriVectin.