Does Daxxify Really Last Longer Than Botox? I Put The Buzzy Injectable To The Test
The rumored glow is real.
Taylor Jean Stephan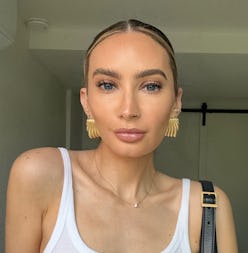 Standing Appointment is our review series that investigates the best new and notable cosmetic treatments in the aesthetics space and determines whether or not they are worth trying for yourself. This week, one writer tries Daxxify to reduce wrinkles.
If you haven't heard of an injectable called Daxxify, allow me to introduce you. It's a recent FDA-approved neurotoxin that's marketed as a Botox alternative because it promises to last six to nine months instead of just three. Even industry experts such as Dr. Ellen Marmur, M.D., board-certified dermatologist and founder of MMSkincare, are impressed, calling it "the first disruptive new treatment" in its category. The news of this supposedly game-changing injectable was music to my ears because not only does Botox require quarterly maintenance, it's also an expensive habit.
For anyone that's gotten Botox before, you already know: Once you start you don't want to stop. Since I began getting injections at age 28 (I'm now 34), like clockwork, I'm back every three months for a touchup. "Many of my patients are on the go, so having a treatment option that lasts longer is really beneficial," says Dr. Corey Hartman M.D., board-certified dermatologist and founder and medical director of Skin Wellness Dermatology in Birmingham, Ala. "Some patients may only need two treatments each year."
With these benefits in mind, I was eager to swap my Botox for Daxxify. Ahead, I share my firsthand experience and results.
What Is Daxxify?
Daxxify, more formerly known as DaxibotulinumtoxinA-lanm, can also be referred to as Daxi for short. The longer-lasting formulation has been in the works for sometime. Fun fact: It was originally in a topical formulation to spread on thin skin as a new way of treating wrinkles without needles. "The FDA required Revance [Daxxify's parent company] to test its molecule as an injection against Botox injectable and, eureka, it lasted longer," says Dr. Marmur. It's currently FDA-approved to use on frown lines and to treat cervical dystonia, but dermatologists have started administering it off-label on the frontalis (forehead) and eye area (crow's feet).
After three decades of development and successful clinical trials (which included the largest clinical program ever conducted for glabellar lines, more commonly known as frown lines), Revance Aesthetics finally announced its FDA approval on Sept 8, 2022. "At the end of 2022, we saw a limited roll out at key practices at the end of the year and a more broad based availability in 2023," notes Dr. Ava Shamban, M.D., a board-certified dermatologist in Beverly Hills and founder, AVA MD Dermatology and Skin Five Medical Spas. Going into 2024, she says, it's expected the treatment will become even more mainstream.
How Does Daxxify Work & What Makes It Different From Botox?
The idea of using a toxin to relax wrinkles on your face is not new, but Daxxify is the first that claims to last at least twice as long as Botox, Xeomin, or Jeuveau (all of which are essentially the same, just different company's products). "The key to Daxxify is the combination of the highly purified 150-kDa core neurotoxin and its proprietary stabilizing excipient peptide (RTP004) instead of human serum albumin," explains Dr. Marmur.
Daxxify's formulation uses a proprietary peptide excipient called Peptide Exchange Technology. "It is a 35-amino-acid stabilizing excipient with a highly positive charge, which helps eliminate the need for human serum albumin," adds Hartman. Human serum albumin is found in blood and all other neuromodulators (like Botox, Xeomin, and Jeuveau) use it in their formulations. "This new peptide acts like a little magnet to hold the medicine close to the nerve cell membrane longer so more of the medicine gets into its target and might explain why it lasts longer," explains Dr. Marmur.
My Experience Getting Daxxify
For my first Daxxify appointment back in July, I went to see Dr. Shamban in LA, who I've been to many times before for various injectable and aesthetic services. She's a pioneer in the field, works with a ton of celebrities, and I will let her do whatever she wants to do to my face – that's how much I trust her. The process of getting Daxxify is essentially the same as getting Botox. She administered the formula in the same areas: forehead, crow's feet, and the 11 lines between my eyes. It was just quick, taking about 15 minutes. Similarly, I received the same amount of units as I typically do with Botox. Price wise, it varies per unit depending on who you go to, but it is comparable to Botox, which typically runs ($10 to $15 a unit).
My Results
One of the benefits you might have heard of in relation to this treatment is the "peptide glow." I can certainly say that this rumor is true. When I woke up the next morning, within 24 hours of getting injected, I noticed an improvement in the overall radiance of my skin. My skin looked tighter and brighter – almost like I had a poreless, glass complexion. For me, that glow lasted about a month. That was the initial main difference between this and traditional neuromodulators. Still, like Botox, it took about two weeks for the full freezing effect to actually kick in. "We give the full onset two weeks to settle in before we consider a touch up," says Dr. Marmur. At the two week mark, since I got the exact same number of units as I do Botox, the results were identical: natural feeling, not frozen, but with a significant reduction in muscle-induced wrinkles.
My brows raised, before Daxxify. Courtesy of Taylor Jean Stephan
My brows raised, after Daxxify. Courtesy of Taylor Jean Stephan
Who Is A Candidate For Daxxify?
The good news: Anyone who is a candidate for regular neuromodulators is a candidate for Daxxify, the dermatologists confirm. Currently, it's approved for ages 18 or older and while late twenties and early thirties is a typical starting age, many Gen Zers are jumping on the bandwagon, too. Like Botox, anyone pregnant or breastfeeding should not use Daxxify.
What Are The Risks Of Daxxify?
According to the experts, there are no serious treatment-related adverse reactions reported in the clinical trial. "The risks with Daxxify are the same as other neuromodulators, including bruising, swelling, rare headaches, ptosis, and asymmetry — but they are temporary," assures Dr. Mamur. I personally didn't experience any side effects, not even bruising which I tend to get with other injectables.
My relaxed face before Daxxify.Courtesy of Taylor Jean Stephan
My relaxed face, three months post-Daxxify.Courtesy of Taylor Jean Stephan
My Final Thoughts
If you compare my before and after pics (the before being me three months post regular Botox and the after being me three months post Daxxify), you'll see that my forehead wrinkles are barely there and my crows feet and the wrinkles around my nose are noticeably not as visible. Meaning that Daxxify, in my experience, does in fact last longer than Botox. That being said, at the three month mark, I'm starting to see some very subtle movement. Guesstimating, I can probably stretch it out another two months before going back in, which would put me at the five and a half month mark. I'll have to reassess then.
I should note that I personally do have an incredibly high metabolism, which makes neuromodulators wear off faster. So if that's not the case for you, I could certainly see this treatment lasting more than six months. "With this being the first year of treatment, we do need to see a longer duration and larger patient population to be able to accurately report 'typical' averages," explains Dr. Shamban. All in all, I would say I'm a fan of Daxxify and I plan to get it again. Since it's so new, I'd be curious to see how long it lasts and how well it wears for others, too.