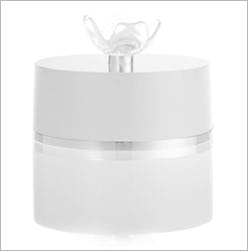 Though we could do without the first date jitters (but keep the butterflies, please!), it's always a little more fun getting dressed to nines knowing you're about to see the object of your affection. To ensure your night-out ensemble comes full circle, pay a little extra attention to detail with these gorgeous gets—employ their help and you'll be impossibly irresistible!
Oscar De La Renta Perfumed Dusting Powder, $58
A dusting of this perfecting powder makes us feel all kinds of old Hollywood—plus, it smells lovely!
Becca Lip Priming Perfector, $24
This new lip primer ensures your color stays put should, ahem, the night ends in a kiss or two.
Guerlain Terracotta Jambes de Gazelle, $59
Don't hesitate to show a little leg—glam your gams with this glow-imparting tinted spray mist!
Lea Journo Lumière Illuminating Moisturizer, $14
Achieve a sexy sheen with this luminesent moisturizer for your hair and skin!
Ilia Multi-Sitck, $34
Keep cheeks and lips perfectly rosy with a multi-purpose color stick—fits effortlessly into your clutch for on-the-go touch ups!