The New All-Natural Skincare Line You'll Love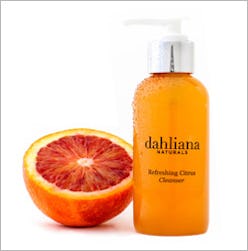 When it comes to treating our precious complexions, we've come to appreciate products that take an organic approach—harsh chemicals, be gone! Our latest discovery in the world of all-natural skincare? Dahliana! Incorporating sophisticated technology (fruit stem cells, for one) and anti-aging benefits, add this collection of natural products to your roster to yield gorgeous results!
After a two-year stint in India studying Ayurveda, Dahliana founder Carola May came to understand the power of plant-based medicine, and employed those same pharmaceutical practices to formulating her products. Relying heavily on fruit-infused ingredients, the collection includes citrusy cleansers, cherry juice creams (sounds good enough to eat, no?) and beyond. Check out Dahliana's full range of goods to select products for your specific skin type, and let your visage revel in organic goodness!
Availability: Dahliana natural skincare ($36-$145). For additional information, visit Dahliana.com.