10 Things Only Girls With Curly Hair Understand
Getty Images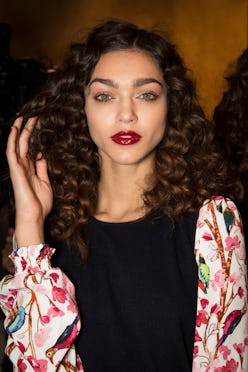 Unless you were blessed with naturally curly hair, you probably can't imagine the primping struggles a girl with a head full of spiral tresses endures on the regular. From effortless hairstyles that are anything but effortless to a shampoo schedule few can understand, these 10 funny (but true) musings are dedicated to our wild-maned babes.
People think they're giving you a compliment when they say, "Your hair looks so much better straight!"
Photo: Getty Images
It looks better just a little dirty (think once-a-week shampoo sessions). Bonus: You save money on shampoo.
Creating an effortless topknot (or updo of any kind for that matter) takes a whole lot of effort.
Photo: David X. Prutting/BFAnyc.com
People are constantly trying to touch your hair. Often without asking first.
Photo: Courtesy of Garnier
You have spent a good portion of your adult life figuring out the best way to deal with your hair, and yet there are still days when it just. won't. listen. Curly hair can be as stubborn as that ex-boyfriend you no longer speak of.
Photo: Getty Images
Girls with silky-smooth, pin-straight locks are constantly saying they wish they could trade 'dos with you. If there was actually some way to accomplish this, you're willing to bet they would desperately want to reverse that trade after the first particularly humid summer day. Trust.
Photo: Courtesy of Lela Rose
You find yourself constantly explaining to strangers that "yes, it's natural," and "no, I've never had a perm."
Photo: Courtesy of NARS
Bangs are just not a possibility. Learning the hard way is not worth it.
Photo: Getty Images
Finding a stylist that can work with your hair is next to impossible (think unicorns and pigs with wings)–but when you find one, you are loyal as hell.
Photo: Courtesy of MoroccanOil
Brushes are useless. But combs combined with wet, just-conditioned hair? Well that's another story.