A Chic Ponytail Idea To Try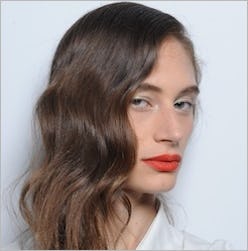 Just a couple of days into the spring 2014 shows and already: an amazing hairstyle to nab right off the runway. Odile Gilbert created this chic yet beachy look for the Creatures of the Wind show yesterday using Kerastase's new Mousse Bouffante ($36) for volume, Powder Bluff ($36) spray for a matte texture, and Laque Dentelle ($35) hairspray to hold the look in place. Going out tonight? Try this gorj ponytail with jeans and heels or a glam cocktail dress. Here's how to get the look in 6 super-easy steps:
1. Apply mousse on damp hair from roots to ends and blow dry using your hands to create texture.
2. Curl random top sections with a 1″ curling iron, twisting pieces with your hands as go.
3. Spray hair with a dry shampoo and hairspray to create a tacky, matte texture that will keep hair in place.
4. Create a small hidden braid at the base of the head, underneath the hair, then coil and pin the braid against the head to serve as an anchor for pins.
5. Take a small piece of hair from the right side of the head right behind the ear, twist it and then wrap it around the loose lengths to create a ponytail and pin into place.
6. Spray with more dry shampoo and hairspray to finish the look.