Press Snooze: 3-Minute Office Makeup Tricks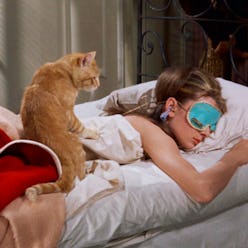 While taking your time getting ready for a night out or an important event is beyond glamorous, a long-winded primping session doesn't feel quite as essential for a day at the office. That said, going completely bare isn't ideal either. Here to give us a crash course in achieving a sophisticated 9-to-5 look in just a few minutes time is celebrity makeup artist and TZR contributor, Charlotte Tilbury.
Get Charlotte's Step-By-Step
"Office makeup should be neutral, natural and quick to apply. You want to look fresh, alert and gorgeous in a matter of minutes."
Photo: @ctilburymakeup.
Step 1: Hydrate Skin
"Start with my miracle-working Magic Cream moisturizer – it's perfect for parched skin during a hard week."
Step 2. Even Skin Tone
"Follow with Wonderglow. I call it Gisele-in-a-jar because it makes you look like you are lit from within and gives you that '8 hours sleep' radiance that we all crave midweek!"
Step 3: Hide Dark Circles
"After your foundation, erase any dark circles or blemishes with concealer. You'll want it to feel like a veil of color; avoid heavy, cakey formulas that'll just sit on your skin."
Step 4. Curl Lashes
"Start your eye makeup by using a good eyelash curler. Think of it as a push-up bra for lashes, making you look instantly more awake."
Step 5. Add Color To Lids
"Soft chocolate and taupe shades are universally flattering and so office chic. Use a blending brush to wash the color across the lids using a windscreen wiper motion."
Step 6. Define With Pencil
"I like to cheat bigger, brighter eyes by using a nude-beige liner inside the waterline to open the eyes. Then I use a soft, chocolate pencil along the upper lash line, drawing the line out into a subtle feline flick."
Step 7. Paint Lashes
"Finish with three coats of mascara for gorgeously bright, Bambi eyes."
Step 8. Set With Bronzer
"Don't be afraid of contouring – it enhances and defines your facial framework! Suck in the cheekbones and follow the hollow with a bronzer then dust highlighter over the cheekbones, down the nose and on the cupid's bow for a luminous look."
Step 9. Add A Swipe Of Lip Color
"Finish the look with a nude lip color that'll complement your sultry, sophisticated eye makeup. I love Tom Ford's Sable Smoke."