Help Protect Wild Horses With A Pretty Palette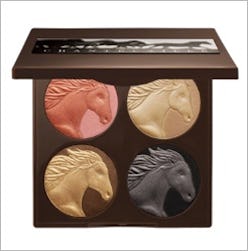 Notorious for crafting cosmetics with proceeds directed to at-risk wildlife and their supporting foundations, Chantecaille seeks to salvage the stallions of America with the release of yet another gorgeous palette.
Available for pre-order, The Wild Horses Palette features four bi-colored eyeshadows in stunning shades ranging from toasty pinks and chestnut browns to dark, dramatic hues. A fall-friendly color palette that allows for flawless beautification while simultaneously supporting a great cause—what more could you ask for?
Availability: Chantecaille The Wild Horses Palette ($83). For more information, visit Chantecaille.com.