Chanel Iman Shares Her Sought-After Beauty Secrets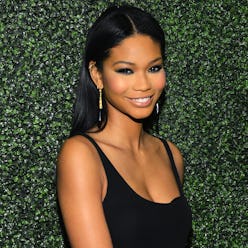 Chanel Iman has walked the runways of Victoria's Secret, Bottega Veneta, Ralph Lauren and DVF, to name only a few. Currently she is heating things up on the pages of the much-buzzed-about 2015 Sports Illustrated Swimsuit Issue. So what has this jet-setting, stunningly beautiful supermodel learned from her days in front of the camera? We asked the New York-based bombshell to spill her beauty secrets. Talk about words to live by.
Rule #1: A Happy Girl Is A Beautiful Girl
"My Beauty M.O. in three words: Natural glowing smile."
Photo: Getty Images
Rule #2: Find Your Favorites
"No matter how many beauty products I try, I always come back to the Anastasia Brow Kit. I also recently started experimenting with Clinique's Bottom Lash Mascara–I have tiny bottom lashes, and the micro wand really gets in there and makes my lashes look fuller."
Rule #3: Stick With What You Know
"My auntie always told me to put toothpaste on my zits, and it works! Back in the day when I would break out during fashion week, I would wash my face with cold water and add some steam before applying a dot of toothpaste."
Photo: @chaneliman
Rule #4: Keep An Inventory
"At any given time, you will find my Anastasia Brow Kit and Diorshow Mascara in my purse. I also carry around my Cinema Secret's Foundation Palette–I can't live without it. Keeping my lips and skin moisturized is super important, so I always make sure to have a lip balm and moisturizer on hand."
Rule #5: Know Your Best Shades
"I've never really been into dark lips. Sometimes makeup artists give me dark lips, and since I'm a model I have to work with it, but I prefer nude lips. I love pairing a natural-looking lip with a dark smoky eye."
Photo: Getty Images
Rule #6: Be Prepared
"I carry a mini flatiron with me because the ends of my hair tend to get really curly. I prefer my hair to be straight and sleek."
Photo: Getty Images
Rule #7: Have A Signature Scent
"I always have Chanel Mademoiselle on hand–it's my signature scent."
Rule #8: Know When To Splurge And When To Save
"When I want to splurge on a beauty product, I purchase a new Tom Ford lipstick. As for a bargain, Covergirl or Revlon eyeliners get the job done, and they're so affordable."
Photo: @chaneliman
Rule #9: Find Beauty In Others
"Halle Berry is my beauty icon. She's just gorgeous."
Rule #10: Basic Is Best
"I like natural-looking nail polish colors–Essie's San Tropez is my favorite shade. I used to be into fun nail art, but now I go for basic, clean manicures."