Cetaphil: Why The Popular Cleanser Isn't Doing Your Skin Any Favors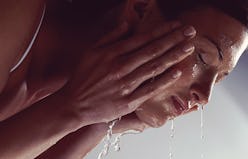 Cetaphil probably has the best PR of any facial soap. Beauty magazines gush over it as a no-frills $8 must-have. Dermatologists love to recommend it as a mild and non-irritating facial cleanser for two reasons: it doesn't contain fragrance and, more tellingly, because MDs have a big Pharma love affair with the manufacturer, Galderma, the offspring of Nestlé and L'Oréal, which also makes acne drugs like Differin.
And yet there's nothing healthy about this face-washing prescription.
Cetaphil Gentle Skin Cleanser contains just eight ingredients: water, cetyl alcohol, propylene glycol, sodium lauryl sulfate, stearyl alcohol, methylparaben, propylparaben, butylparaben.
More reading: 7 all-natural bar soaps you'll actually want to wash your face with
All but the water are chemically manufactured (let's hope), and propylene glycol, sodium lauryl sulfate, and the three parabens have a seat on the dirty dozen, a list of cosmetic ingredients to avoid as potentially toxic.
One look at the label and you've got to go "Wait a minute! What?"says Spirit Demerson, who analyzes skin-care ingredients for Spirit Beauty Lounge, her online natural beauty store. "Cetaphil does not contain even one single beneficial ingredient and what it does contain is the equivalent of toxic sludge. Whether you think it's keeping your skin healthy or not, it is absorbed into your bloodstream and research has proven almost all of the few ingredients in it are carcinogenic. I know it's hard to imagine that washing your face can give you cancer but it's worth consideration."
To find out what criteria your daily cleanser should be based on, check out the full article here.