Zendaya Explains Why She Experiments With Different Hairstyles
BxPix / Splash News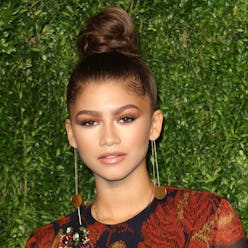 Zendaya's living life as the ultimate girl boss, parlaying her career as an actress and singer into a brand new clothing line and mobile app, and most recently, gracing the cover of Allure 's upcoming January issue. (Oh, and did we mention she's doing all this at the ripe age of 20?) Aside from her confident, endearing personality—which has made her a role model for many young women—Zendaya has become the ultimate beauty chameleon throughout her years in the spotlight. For starters, she's one of the few people who can virtually get away with wearing any hairstyle she desires—literally.
Zendaya looks flawless in a bob, mullet, cornrows, you name it. However, the reason she's so experimental with her hairstyles isn't solely for the looks. In the interview accompanying her latest cover, Zendaya reveals the much deeper meaning behind her variety of cuts, color and styles, and how it all has to do with representation.
"I feel a responsibility to showcase different kinds of beauty through hair—every woman should be able to see herself in me in some way," she said. "I love when I get to wear my cornrows, because it's surprising. So many people are like, 'Wow! What a fresh, new, fun hairstyle!' But no. It's been around for a long time. I'm just whipping it out."
The next time Zendaya's spotted in a different 'do, we're sure she's helping many women feel just as beautiful and as confident as she does.
Allure