Zendaya Did Her Own Makeup For Last Night's Red Carpet And Used All Drugstore Products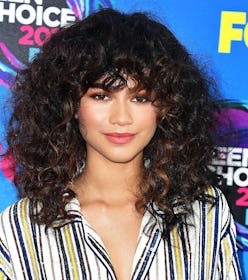 Whenever Zendaya steps out on a red carpet, we know she won't disappoint. Not only can she pull off literally any hairstyle on the planet, but she never leaves the house without glowing skin. (We caught a glimpse of her up close and personal this weekend at Beautycon, and her complexion is actually phenomenal.) Another fun fact about the actress and budding fashion icon is that she's great at doing her own makeup. In fact, her flawless face at last night's Teen Choice Awards was courtesy of her own handiwork. Luckily, we have the full breakdown of everything she used to get her monochromatic look, and we are happy to report that it was the result of drugstore products. Here, the affordable items Zendaya used to achieve her A-list look.
Foundation
For a healthy, glowing complexion, Zendaya applied this foundation that's designed to be second skin.
Eye Shadow
To enhance the bronzy hues of her skin tone, she brightened her lids with the warmer shades in this palette.
Lip Liner
To perfectly align the shape of her lips without obvious tracing marks, Zendaya used this invisible liner.
Lipstick
To play up the natural pink hues in her lips, she swiped on a peachy pink liquid lipstick.
Eyeliner
To intensify the outer corners of the eyes, she used this dual-ended eyeliner and smudger combination.
Mascara
She topped off her eye makeup with some volumizing mascara.
Brows
Of course, she couldn't forget her eyebrows, so she sprinkled on a bit of brow powder to keep them looking natural.