The Victoria's Secret Fashion Show Will Embrace Models' Natural Hair
Samir Hussein/WireImage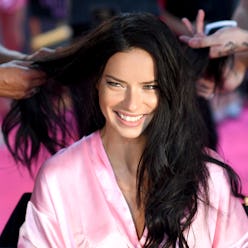 Last year Maria Borges made history as the first model to wear a natural afro down the Victoria's Secret Fashion Show runway. Today the Angels will be filmed gracing the Paris catwalk and the brand is continuing its strides toward inclusivity and diversity. "This year we're focusing on enhancing natural beauty," the show's hairstylist Sarah Potempa told Elle .
For this carefree approach, the hair team will work with each model's own texture and length. In other words, not every girl will be styled with identical bombshell waves as they have been for past shows. Sarah will still use her signature Beach Waver curling irons, but she'll choose from three different sizes depending on hair type.
(Photo: @iammariaborges) Cindy Bruna, Kendall Jenner, Joan Smalls, Lily Donaldson, and Maria Borges pose backstage.
Extensions won't be used as much as in years' past, when you've probably noticed little variation in hair length. However, we're living in a time when models are making bold hair changes left and right, from lobs to pixies, so "if someone needs a little bit for width, for volume, then we'll do it. But it's not so much about making everyone identical," Sarah said.
While the Victoria's Secret Fashion Show has always been about feeling sexy and glamorous, it's evident that natural is the new sexy.