I Tried Kim Kardashian West's Favorite Laser Treatment, And It's A Game Changer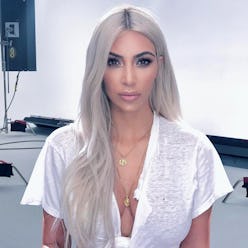 I became obsessed with skincare in my late 20s. I chugged water, slathered on eye cream and avoided the sun like Tinder after midnight. But no matter how much I did or spent, I couldn't undo the existing damage from earlier, less responsible days.
That's when I started to dream: What if there were a magical treatment that could reset my skin to its former baby self? To the face I had before zit-popping (hello, discoloration) and tanning beds (I've since recovered) became part of my day-to-day life. And before birth-control induced melasma conquered the area around my mouth.
That's when I saw Chelsea Handler post before-and-after photos from laser resurfacing, a treatment in which pulsated light tricks your skin into thinking it's experienced a third-degree sunburn. The damaged layers peel off, leaving you as close to "zero" as possible without a more in-depth procedure.
"Sun damage is the hardest thing to reverse," explained friend and celebrity aesthetician Shani Darden. "Or if you have acne scarring and have tried topical remedies with no results, then I would consider exploring laser treatment."
Shani said the most important thing is to find a doctor who is super experienced with lasers. Enter Dr. Simon Ourian in Beverly Hills, who, beloved by the Kardashians, is pretty much the leading game in town.
For the full article and more on this game-changing laser treatment, head over to Coveteur.