Shay Mitchell Is Having A Love-Hate Relationship With Her New Blonde Hair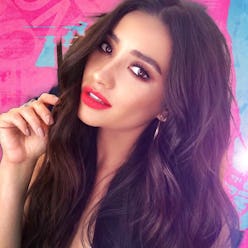 Shay Mitchell is really making moves in the hair department these days. Just three days ago, she stepped out at the 2016 Teen Choice Awards with the most innovative topknot we've ever seen and then, she completely switched things up on us. Now, the Pretty Little Liars actress is officially blonde, again, we think. Shay took to Instagram early this morning to show off her significantly lighter locks, but the question is, is it real?
Three weeks ago, she posted a photo with a similarly colored 'do and the caption, "when you've taken 100 selfies to see whether or not it looks like a wig," and then days later popped back up on our feed with dark hair. With the amount of blonde back and forths she's made lately, we can only assume it's fake. If she did in fact bleach her hair this time, we hope she softens her strands with one (or all) of our favorite hair masks below.
Watch this space for hair updates and in the mean time, scroll through Shay Mitchell's Insta-hair timeline.
Put A Mask On It