The Drugstore Beauty Products Sarah Jessica Parker Swears By
Billy Farrell/BFA.com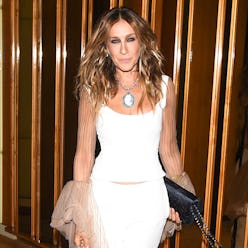 If you've ever wondered what Sarah Jessica Parker keeps in her medicine cabinet at home, she's finally shared her essentials. In a recent interview with Refinery29 , SJP dished on her favorite beauty products. The most surprising part is that they can actually all be found at your nearest drugstore, versus a luxury retailer. Click through to see which beauty essentials are SJP's go-tos.
Drugstore Must-Haves
This rich formula is infused with sesame oil to soften and smooth any area upon application.
This facial sunscreen is designed to protect the skin from harmful UV rays without causing breakouts and clogging your pores.
This non-greasy, water-resistant body lotion sunscreen will protect your skin while moisturizing it with vitamin E.
SJP says this is the only facial moisturizer she'll use apart from her sunscreen. "I use the fluid—it's like water, it's so good," she told Refinery29.
This beauty buy proves she's just like us and stocks up on cotton swabs, which are an everyday grooming essential.