The Unusual Hair Trend It Girls Are Wearing To This Year's Burning Man Festival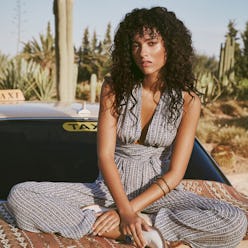 Every year, thousands of brave souls gather for a full week in the scorching-hot desert at Burning Man. The festival has become a huge celebrity attraction, with familiar faces in attendance including Karlie Kloss, Candice Swanepoel, and the Delevingne sisters. Festivals in general have evolved into birthplaces for new beauty trends, as well as bold and sometimes controversial fashions.
Cara Delevingne, her big sister Poppy, and Paris Hilton have all taken to Instagram to post their initial looks for this year's festivities. Braids (unsurprisingly) play an integral role, but these three ladies have given them an unconventional twist. Cara and Poppy both sought the help of Scünci celebrity hairstylist Laura Polko to add some rainbow additions to their strands. Poppy is pictured in double Dutch braids, with mint green and hot pink weaved in. Cara's hair is split into five different sections to create cascading braids with electric blue, purple and neon pink plaits.
We're not sure we'll be trying these looks, but for those who like to live on the wild side (or are heading into the desert yourself), here's your inspiration.