Mila Kunis Grew Out Her Super-Short Haircut And We're Still Obsessed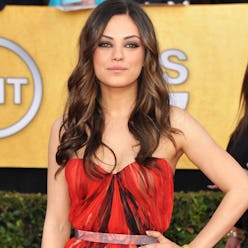 Update September 27, 2017: The internet freaked out when Mila Kunis got her shortest cut ever back in June, and while we loved it then, we're kind of loving how it looks in its grown-out stage even more. Her hairstylist took to Instagram to share her now lob with the caption, "Fresh #haircut for #MilaKunis❤️." While we're not calling this one a cut (maybe more of a trim), we're obsessed with her slightly longer locks, especially styled in those soft waves. Take this to your stylist now, because we promise it will be the haircut everyone gets this fall.
Original post June 28, 2017: Ever since Mila Kunis was first introduced to us as Jackie on That '70s Show, the Ukrainian beauty has boasted envy-inducing long locks. That all changed when she stepped out wearing a haircut that's currently making the rounds of It girls like Bella Hadid, Olivia Palermo and Kendall Jenner: the bob. Hitting just below the chin, Mila's new chop is the perfect update for summer and looks impossibly fresh. Maybe it's the LA heat wave, maybe it's motherhood or maybe it's for a role—no matter, we love that she stepped out of her comfort zone. It looks good on you, Mila.