Lucy Hale's Subtle Hair Change Is Perfect For Girls Who Won't Commit To A Dye Job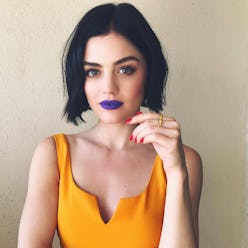 Lucy Hale is known for showing off a wide variety of haircuts and colors, but she just debuted her most subtle change yet. She posted a selfie on Instagram sporting a slightly different color than her go-to dark brown shade. While in Vancouver, hairstylist Chris Weber Mirlach warmed up the actress's dark strands, adding a slightly lighter brown balayage to wrap around the layers of her choppy bob. This change is perfect for girls who refuse to undergo a full-blown dye job and would rather just test the waters with something more low-key. If you're looking for a color change for fall, try your own spin of Lucy's barely there balayage. Now we're curious what her next move will be, considering she's pretty much the queen of brave hair moves. Ahead, her latest rich brown mane, as well as more of our favorites from the trendsetter.
Lead image: @LucyHale
Subtle Balayage
Lucy's subtle dye job warmed up her overall 'do.
Short Comb-Over
She teased a much shorter, edgier bob on Instagram, but admitted it was just a styling trick.
Lucy dyed her strands a few shades darker and got a fresh chop to promote the final season of Pretty Little Liars.
Micro-Bob
She debuted her shortest hair ever on Instagram, styled in a very short angular bob.
Braided Updo
Lucy has worn braided updos on more than one occasion—probably because they just look that good on her. Here, her strands are woven into one another to create this edgy basket effect.
Floral Accents
Lucy upgraded her braided updo by adding flowers to different sections of the style. She also made sure to pull out a few wavy strands up front, for an incredibly romantic effect.
Hidden Braid
From the front, this braided portion of Lucy's hair isn't visible to the eye. Thankfully, she snapped a photo of the fun surprise that was added to the back of her look.
Metallic Barrette
Lucy kept her lob in control with a subtle crown braid up front, then added a silver hair accessory to make the look a bit more fun.
Red Twigs
Yes, she also managed to wear actual red twigs in her hair. Her hair is in a sleek, braided 'do with the rouge additions sprouting in every direction.
Starry Glitter
Sparkly roots was easily one of the biggest hair trends during the 2016 festival season. Lucy took it to the next level by wearing metallic stars across her part, rather than actual glitter.
Gold Wire
Lucy introduced us to a totally new way to keep our hair in place, and it has nothing to do with hair elastics. Here, she poses in a twisted updo held together with thin gold wire that also doubles as a great accessory.