This Lipstick Just Raised Nearly Half A Million Dollars For Charity
Getty Images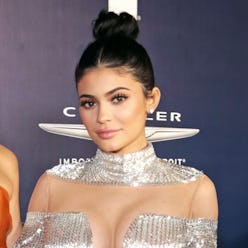 Kylie Jenner's beauty line, Kylie Cosmetics, is undoubtedly one of today's buzziest, and now she's taken her business' success and applied it to a huge philanthropic effort.
On World Smile Day 2016, Kylie launched Smile, a limited-edition pale pink lip kit. She also announced that 100% of the proceeds made from sales of Smile would be donated to the Smile Train charity, which provides free cleft palate surgery for children all across the globe. During its first run, Smile collected $159,500 in sales, which funded surgeries for 638 children. Due to the launch's overwhelming success, it was restocked earlier this month and has now raised an additional $300,000 for Smile Train—which funds 1,800 surgeries, according to People. In total, Kylie's influence has provided nearly half a million dollars to help thousands of children.
According to Smile Train, clefts that remain untreated can negatively affect everything in children's lives, from the way they eat to their ability to breathe. Judging by her previous anti-bullying efforts and several visits to children's hospitals, we totally get why this cause would be dear to Kylie's heart.
Say what you want about the Kardashian-Jenner clan, but you must admit they know how to do a good deed. There's no word yet if Smile will be back with another restock, but if so, we recommend you keep this generous cause in the back of your minds if you're debating a lip purchase!