How Kim And Kourtney Kardashian Combat Dark Circles Without Eye Cream
Stefanie Keenan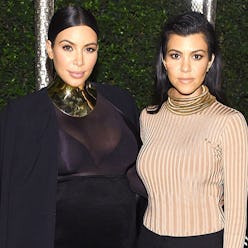 While Kourtney and Kim Kardashian seem to be polar opposites when it comes to makeup (Kourtney is rather low-maintenance, while Kim often goes for full glam), they both share a skincare secret. Kourtney tells Refinery29 that she and Kim have always worn face oils as a treatment for under-eye circles, rather than eye creams.
"I have always used oil under my eyes and on my eyelids; I love the Manuka oils and I use that still. But Kim and I started doing that in, like, eighth grade… I feel like the consistency is much lighter, and it doesn't clog under your eyes, where I feel like a cream does, at least on me," she explained. If you're looking to give your under-eye area an extra boost, consider trying one of these facial oils to hydrate like a Kardashian.
No More Dark Circles
Stay On Trend All Year Long
Discover Box of Style featuring the season's most coveted fashion, beauty and lifestyle items for only $100 per quarter.