This Is How Kim Kardashian Does Her Own Makeup In Under 10 Minutes
Marc Piasecki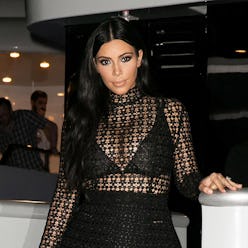 The Kardashians are infamous for traveling with an entourage of glam staffers. They have pro hairstylists, makeup artists, and clothing stylists on speed-dial to get them ready for everything from lunch dates to red carpet events. Apparently there are still times when the girls have to buckle down and do it all themselves as Kim just confirmed.
During her husband's Toronto stop on his Saint Pablo Tour, Kim had just 10 minutes to do her makeup, so naturally she decided to livestream the process on her mobile app. In the video tutorial, Kim is seen doing a full face including contouring and highlighting, of course. It doesn't seem as if she used that many products in the video, but in a blog post that she shared afterwards Kim revealed that when she does her own makeup she uses 29 different products. That doesn't exactly seem ideal for anyone who's in a hurry, but if you're interested in learning what those 29 products are, you can find the full list here.
Watch Kim do her own makeup in under 10 minutes in the video below.