Everything You Need To Know About Kim Kardashian's Unexpected New Beauty Product
GC Images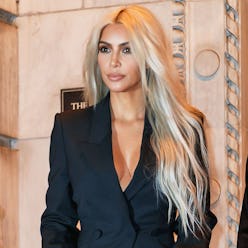 Updated October 25, 2017: Kim just released the official campaign for her upcoming fragrance. KKW Fragrance will be available exclusively online on November 15. A website for the scent has already been set up and fans can enter their email addresses to sign up for official updates.
Originally posted September 14, 2017: Kim Kardashian West continues to make headlines in the beauty department, whether with her own look (hello, platinum blonde!) or with her eponymous KKW Beauty line. This week it's the latter, as she took to Instagram to tease another product in the works. With the success of her cream contour kits and powder contour kits, fans are eager to learn what's next for Kim's budding beauty empire. She already revealed an upcoming lip product, but her latest teaser really wasn't what we expected.
She shared a photo of florals in her usual pink aesthetic. And while she captioned it "Gardenia," fans were quick to call out her mistake as the blooms in question are actually orchids, but we love her anyway. The most interesting fact about the photo is that she tagged an account for @kkwfragrance, pretty much confirming scents are on their way as part of her line. If you've been with Kim since the beginning, you're aware she's had fragrances in the past through licensing deals, but this is the first time she's fully in control. No word on the release date, as the Instagram account has no photos posted to it yet and fewer than 400 followers, but we'll be sure to keep you updated.