Kim Kardashian's New Reality Show Could Be The Ticket To Your Dream Job
FilmMagic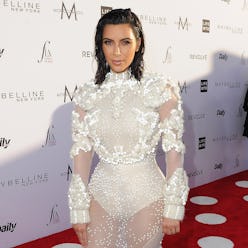 Last year it was announced that Kim Kardashian was recruiting top beauty bloggers to join her on a new project. At the time, not many details were released to the public, but it was rumored to be a reality TV competition show. Today Kim took to Instagram to finally spill the story of her latest venture, and it could be the ticket to your dream job.
The social media maven confirmed that her new show, Glam Masters, will be a beauty blogger contest and that it's set to premiere on the Lifetime network. The queen of beauty herself will executive produce along with Diana Madison. While Kim states the show's purpose is to find "the newest member of her glam world," the details go a lot deeper. The show's official website reads: "Four lucky bloggers will go head-to-head on each week's episode. Only a few will make it to semi-finals and eventually finals, where one will become the Glam Master. The next big name in the beauty world could be YOU."
The casting application reveals how the show will actually impact the winner's career: The final prize is the opportunity to serve as beauty director of the Kardashian apps, which means the Glam Master will hold the beauty reins for all the sisters—sounds like the gig of the century. Apply now!