How To Get Kendall Jenner's Signature Beauty Look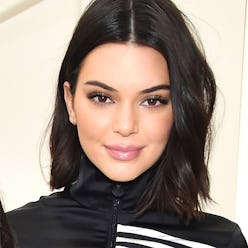 Sure, Kendall Jenner's supermodel looks are mainly based on a long line of (really, really) good genes, but that doesn't mean you can't achieve the same level of classic beauty. No matter what you're working with, playing up your features with a monochromatic color story, a simple cat eye and a nude lip is all you need to up your makeup game. It really just comes down to the products you choose and how you apply them, so we're sharing our best tips for recreating Kendall's signature look—all you have to do now is practice your "smize."
Matte Foundation
Every classic makeup looks starts with a matte foundation. Buff it in with a dense foundation brush for an airbrushed finish.
Eye Shadow
Choosing a brown shadow in a matte finish gives the illusion of contoured lids and bigger eyes. Use a fluffy brush in a left-to-right swiping motion to blend a natural-looking contour.
Groomed Brows
A set of groomed arches is the secret to a polished look. Always start by plucking strays, then fill them in. Start by shading in your brows with a brush and powder, then use a super sharp pencil to create hair-like strokes. Lastly, brush them out with a spooley brush to set them in place.
Cat Eye
A clean cat eye is the secret to those those dreamy Marilyn-Monroe bedroom eyes. To achieve the perfect flick, start with a thin stroke at the inner corner of your eye. As you make your way toward the outer corner, create a thicker stroke, then wing out toward the end of your brow. Use a liquid liner for a clean line.
Lips And Cheeks
To finish off your classic makeup look, opt for a coral product that works for both lips and cheeks—it gives your face some color but also looks natural.