Kendall Jenner's All-Time Boldest Beauty Moments
Antonio de Moraes Barros Filho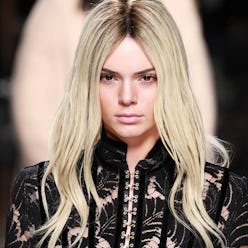 Kendall Jenner is typically known to be the more low-maintenance sister in her glamorous family. However when you're a supermodel, you're required to be a beauty chameleon while on the clock, like it or not. At the request of designers, Kendall has been spotted rocking everything from bleached eyebrows to faux bangs to dramatically shellacked hair—a far cry from her effortless off-duty approach. In honor of her 21st birthday, we've rounded up her most memorable runway beauty moments—naturally, she's looked incredible in each and every one.
Marc Jacobs, Fall 2016
This was a modern take on goth hair and makeup, with very smudged eyeshadow and black lips to match.
Chanel Haute Couture, Fall 2015
The makeup artist contoured Kendall's face with blush as a tribute to the draping trend. Her faux bowl haircut made her look nearly unrecognizable.
Marc Jacobs, Fall 2014
For her high-end runway debut (and for the love of fashion), Kendall had to bleach her brows.
Givenchy, Spring 2017
While wet hair may be trending, the hairstyle at Givenchy took the shellacked look to an entirely new level with copious amount of gel.
Balmain, Fall 2016
Kendall swapped hair colors with her best friend Gigi Hadid in a blonde wig, which was the talk of the town following the runway show.
Marc Jacobs, Spring 2015
Kendall stated that she'd never get bangs, and only allowed stylists to apply faux clip-ins if necessary. This time they went for a full wig, as she hadn't had her big haircut just yet.
Christian Dior, Fall 2015
Bold lips are always on trend for fall and winter, but we doubt we'd ever catch Kendall wearing a shade like this off the runway.
Chanel Haute Couture, Spring 2016
Kendall looked like something out of the future in this wrapped updo and dramatic eyeliner.
Diane von Furstenberg, Spring 2016
While her soft waves and floral hairpiece weren't exactly bold, the metallic blue eye makeup was head-turning in its own right.
Fendi Roma 90th Anniversary Show
Fendi ditched traditional hair bows and opted for fuzzy ropes to incorporate into each model's hair. Kendall was also spotted in big, bouncy curls for the first time.
Alexander Wang, Spring 2017
In September, Kendall debuted her new short hair and a completely bare face to match at Alexander Wang. While this look is typical in her off-duty life, it was surprising to see it on the catwalk.