Kendall Jenner Looks Just Like Jackie O On Her Latest Magazine Cover
Getty Images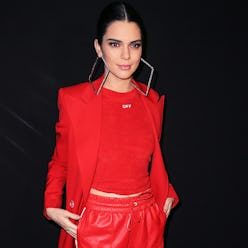 Kendall Jenner has proven on more than one occasion that she's not afraid to switch up her look for the sake of fashion. Harper's Bazaar nabbed the 21-year-old supermodel for the cover of the magazine's 150th anniversary issue, and we couldn't help but notice that while Kendall surely looks different, she looks a lot like Jacqueline Kennedy Onassis.
Kendall's signature shaggy lob was transformed into a headful of retro waves with seriously envy-worthy volume. Often considered the low-maintenance sister in her famous family, she traded her usual no-makeup look for bright cherry lips and dominant brows—a big change for sure, but given that she's sported bleached eyebrows and bubble-gum pink hair for jobs in the past, should we really be surprised?
The issue hasn't yet hit stands, but you can see Kendall's Jackie-inspired look below.
Photo: Harper's Bazaar