Kendall Jenner's Miracle Acne-Fighting Solution Will Cost You Less Than $10
Getty Images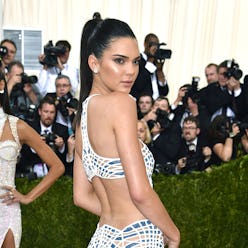 Kendall Jenner has never been shy about her struggle with acne as a teen. Prior to her modeling career taking off, she often referenced her skin in episodes of Keeping Up With the Kardashians. Nowadays she works through a jam-packed schedule with little to no downtime and constant travel, yet her complexion looks flawless. How so?
The supermodel just finally shared her secret with the world via a new video posted to the KENDIY section of her official website and app. It's a step-by-step breakdown of Kendall's homemade acne-fighting solution. You would think with a super successful family and a mass of industry connections, she would be utilizing some kind of VIP skincare treatment—but it turns out she whips up this particular holy-grail product with ingredients from her pantry.
To combat blemishes, Kendall uses a simple solution of lemon, baking soda and honey. According to the video, baking soda mixed with lemon has the ability to dry out pimples while honey soothes irritation. Kendall mixes 1/2 teaspoon of lemon juice, 1/2 teaspoon of baking soda and 1 teaspoon of honey into a paste. She then dabs it onto her problem areas and rinses it off after 10 minutes.
It's an old-school beauty trick that your grandma may have taught you, but if it gets Kendall's jet-setting skin in tip-top shape, it's certainly worth a try.
Glow Like Kendall