Gwyneth Paltrow's New Goop Fragrance Was Inspired By One Of Your Favorite Foods
Getty Images for La Perla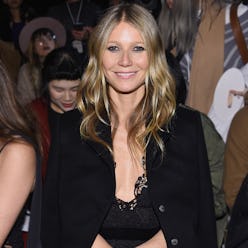 Gwyneth Paltrow made her mark in the beauty world with her Goop by Juice Beauty line, which instantly became a cult favorite. The actress-turned-wellness guru also has a reputation for trying some of the craziest health hacks and quickly turning them into crazes. We have to admit, we've gone ahead and tried some of her multiple detoxes and were even tempted to try a bee sting facial (terrified, but still tempted).
By now we're all aware that GP has expanded her Goop empire to everything from skincare to clothing to pricey vitamins. She also began launching fragrances under the Goop brand, starting with her winter-inspired Edition 01 scent, meant to smell like a crackling fire in colder months. Her second fragrance, however, is inspired by something very out of the ordinary—something you most likely love to eat.
Shiso leaf (you know it best as a Japanese sushi leaf) is the surprising new star of the woodsy blend, according to the Goop site. We never thought to aspire to smell like one of our favorite foods, but if Gwyneth thinks it's a great idea, then we're sure others will be quick to follow. The description explains that Edition 02 has a spicy, fresh characteristic that allows it to blend well with the other notes found in the mix. "We worked with shiso as a primary scent, which is rare in the perfume world—it is closely hinged to the other notes, so it begins simply and then slowly opens up into spicy greens, crushed stems and ancient exotic woods," she shared on her site. Along with 16 other ingredients, the complex scent is completely safe to spritz all over yourself, which is sadly not true for the majority of other fragrances out there.
But wait, there's more. A spritz of the sushi leaf fragrance also boasts healing properties. The different notes are meant to do everything from bringing joy to clearing negative energy to healing past wounds. Sign us up. We've yet to get our hands on a bottle, but we're eager to try this unexpected fragrance note. Edition 02 is available on Goop for $165.
Goop