Fresh-Faced Beauty Looks From The 2016 People's Choice Awards Red Carpet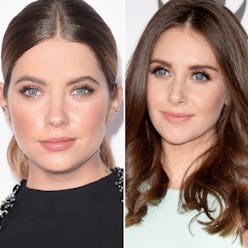 We love when our favorite celebrities rock a fresh-faced beauty look, but even better is when they do it on the red carpet and make it look enviably radiant. Case in point? The soft-yet-striking makeup seen on Kate Hudson, Alison Brie, Julianne Hough and Ashley Benson at last night's 2016 People's Choice Awards. And while we wish our natural beauty routine (read: tinted moisturizer, lip balm and sweep of mascara) was equivalent to the glowing complexions of Hollywood's elite, we admit that pulling off an "effortless" beauty look takes a bit more, well, effort. Ahead, the must-see beauty looks from last night's red carpet, plus products and tips for achieving a fresh-faced makeup look in real life.
Naturally Beautiful
Alison Brie
Ashley Benson
Julianne Hough
Kate Hudson
Get The Look
An oil-free, illuminating primer perfectly preps skin for makeup by adding subtle contour and radiance.
Create a brilliant complexion with an illuminating foundation. Look for a lightweight formula with SPF to create a soft glow and protect your skin.
Simulate a natural glow with a silky bronzer-highlighter combo. Gently sweep across cheekbones, temples, forehead and chin for added luster.
A natural beauty look still warrants eyelash enhancement. Opt for a single coat of a volumizing mascara to create a soft yet multidimensional look.
A neutral eyeshadow in a shimmering shade will illuminate eyes for subtle wow-factor.
Add a hint of drama to your fresh-faced look with a soft application of high-definition eyeliner.
Opt for a hydrating lipstick in a peach tone for a warmer take on nearly nude.
Naturally shape and define eyebrows with a two-in-one pencil with highlighter—the effect is bold, yet radiant.