Chrissy Teigen's Biggest Beauty Faux Pas Is Something We've All Tried Before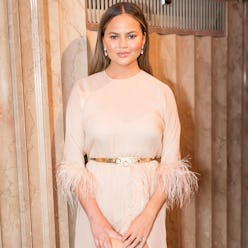 She's beautiful, she's funny and she's downright honest. There's no truth or dare Chrissy Teigen shies away from, and in her appearance on Vogue's web series 73 Questions, the supermodel clearly holds nothing back. The one thing missing in her life? Her currently on-tour husband John Legend, of course. Scariest villain of all time? "Donald Trump," she replies. Our ears perk up when she begins talking about her chameleonic style and beauty secrets, especially upon revealing the worst trend she's ever tried. (Hint: It's something we've all either unsuccessfully attempted or avoided for good reason.) "Fake bangs," Chrissy says definitively, as we recall the brow-skimming set she debuted at the 2014 Billboard Music Awards. Unsurprisingly she still looked fabulous, but this is also one trend we'd very much like to retire.
Watch the rest of her interview below, and check out the hair trends we do recommend here.