15 Celebrity Secrets For Getting The Clearest Skin Of Your Life
Antonello Trio/IMAXTREE.COM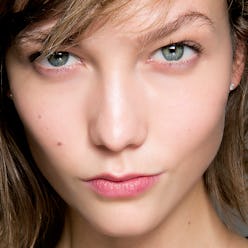 Celebrities may appear to have perfect skin, but the fact is they're human, and they have to work for it just like we do. A-listers do have an advantage, however—namely cutting-edge products at their fingertips and access to the best skincare professionals in the biz. Thus, these ladies have picked up some trade secrets along the way, and we're all ears. Here, find out how everyone from Karlie Kloss to Jennifer Aniston keeps their complexion smooth and radiant all year round.
Don't Exercise With Makeup On
Karlie Kloss has admitted she breaks out if she wears makeup to exercise. She told Elle that she cleanses her face before and after working out, and follows up with Biore Deep Cleansing Pore Strips.
Use A Spot Treatment
Kendall Jenner mixes half a teaspoon of baking soda, half a teaspoon of lemon juice and a teaspoon of honey. On her website, she wrote "the baking soda and lemon juice act to dry out the pimple, while honey works to soothe irritation."
Wash Off The Workday
Gwyneth Paltrow recently shot a video for Vogue , and in it she reveals that she washes off her makeup after a long day at the office, and then reapplies for evening. She uses Goop Luminous Melting Cleanser, followed by Goop Exfoliating Instant Facial.
Exfoliate Properly
Naomi Campbell's facialist Christine Chin told Harper's Bazaar that the supermodel swears by microdermabrasion. "We start with a few glycolic peels and then use microdermabrasion to exfoliate," she said.
Consider A Laser Treatment
To keep the texture of her skin smooth and youthful, Jennifer Aniston gets a Clear and Brilliant laser treatment. She told InStyle that it's "a great refresher and there's very little downtime."
Use At-Home Remedies
Scarlett Johansson credits her flawless skin to a household staple: The actress told Elle UK she relies on apple cider vinegar to heal breakouts.
Tighten Your Pores
Kate Moss told W Magazine that she learned an old-school trick from Mommie Dearest! The super submerges her face into a bucket of ice water topped off with cucumber slices.
Nail Down A Routine
Selena Gomez keeps it simple, and has her routine down pat. She told Allure , "I'll wash my face, I usually tone it, and then I'll put a little bit of moisturizer on it, not tons, because I have really oily skin. I don't have specific products I'm obsessed with; I just try different things."
Incorporate Face Masks
Jourdan Dunn is into masks. The supermodel told Elle she uses Sisley Radiant Glow Express Mask twice a week.
Try Drugstore Staples
Gigi Hadid proudly uses St. Ives Apricot Scrub as her go-to facial cleanser. She's also said that when she has a breakout, she applies toothpaste to dry it out.
Don't Get Lazy
Kim K revealed her step-by-step skincare routine on Snapchat this past summer—it includes exfoliating pads, facial oil, facial serum, eye serum and moisturizer.
Detox Your Skin
Quantico actress Priyanka Chopra told Byrdie she drinks four liters of lemon-infused water per day for three days when she needs a skin refresh.
Treat From Within
Kourtney Kardashian recently blogged that adding bee pollen to her breakfast smoothie is the key to her flawless skin.
Eat Superfoods
Victoria Beckham shocked everyone when she shared that her dermatologist insists she eat salmon every day for clear skin. He advised her to incorporate it into at least one meal a day.
Eliminate Dairy
When she was pregnant with her son six years ago, Alicia Keys altered her diet. She eliminated dairy and now credits that change for her flawless skin.