Butter London Colour Cosmetics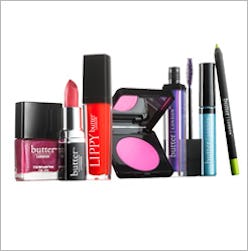 After falling in love with their dreamy nail lacquers, we're way excited about the launch of Butter London's vibrant Bespoke Colour Cosmetics collection. Exclusive to TZR, the brand's Global Colour Ambassador, Katie Hughes, dishes on her favorites from the new collection, in addition to fall beauty tips!
How can you play with color for summer-to-fall beauty without looking too bold? "The best way to bring a summer look to fall is to carry one bold look through to the next season. If you love a bright lip and a bright eye liner for summer, rock just the bright eye liner for fall."
L to R: Cheeky Cream Blush, Wink Eye Pencil & Lippy Tinted Balm
Your favorite new products/shades in the collection? "WINK Eye Pencil in Inky Six as it is the perfect blue pencil, easy to use and can create an edgy smoked-out look in seconds. I also love the CHEEKY Cream Blush in Honey Pie. It's the most flattering peachy-nude blush, and it is cream so can also double as a lip colour. Another favourite is the LIPPY Tinted Balm in Apricot Sunday and Toasted Marshmallow. I love this balm, it's packed full of pigment and can be transformed into a matte lip by simply blotting it."
Use these eye-enhancing pencils for a playful pop of color!
Tips on how to rock colored mascara and eye pencils? "Knowing what colours to rock with your skin tone and eye colour is critical. For example Jaded Jack looks absolutely amazing on blondes and jewel tones such as purple, and blue always work really well with brown eyes. It is important to know what will look best and one colour you can't go wrong with when it comes to eye makeup is blue. butter LONDON's WINK Mascara or WINK Eye Pencil in Inky Six can help make eyes look whiter and brighter in no time at all. Purple mascara and eyeliner (such as butter LONDON's WINK Eye Pencil and WINK Mascara in Indigo Punk) work really well for green and blue eyes giving any look a pop of colour. You can also switch the coloured look up by layering a coloured mascara over black on the top lash and using the same coloured mascara on the bottom lashes for a more toned-down effect that still makes an impact."
Go bold—try out some of Butter London's rainbow brights for fall!
Trends you can't wait to try out for fall beauty: "Eyes are going to be a huge focus this fall. We saw a lot of colored eye liners, eyeshadows and mascaras on the runway which can easily be translated into an everyday look with butter LONDON's new collection. Even if you are nervous about coloured mascara, a little coloured eyeliner can really amp up any look. Try the new trend of a heavy bottom lash all smoked out. It's really cool and makes quite the statement."
Where the love affair all began—Butter London's luscious nail lacquers!