Next-Level Bridal Hair For Every Wedding Dress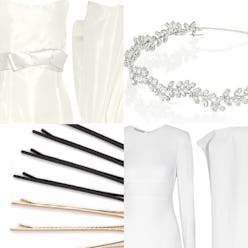 Spring is just around the corner, which means so is wedding season. If you're planning to tie the knot, chances are you've been obsessing over the dress, but have you given the perfect hairstyle to pair it with enough thought? We've curated several super-modern 'dos and teamed them with a variety of common wedding-dress necklines. Always a bridesmaid? Our styling tricks work beautifully even if you're just a guest.
Perfect Pairings
Neckline: Halter
Hairstyle: Side Braid
Show off your neckline by creating a loose, romantic fishtail braid and sweeping it to one side.
Photo: Pinterest
Neckline: Crew
Hairstyle: Edgy Ponytail
Your high neckline is already covering you up–don't hide behind your hair too. Instead, pull hair back into a sleek, low ponytail.
Photo: Pinterest
Neckline: Deep-V
Hairstyle: Embellished Updo
A deep-V neckline is unabashedly sexy. Make it glamorous as well by topping it off with an effortless updo and a collection of hair accessories.
Photo: Pinterest
Neckline: Strapless
Hairstyle: Glamorous Waves
A strapless neckline looks too bare when hair is swept up. An old-Hollywood wave looks classic and elegant—rows of bobby pins give it a modern twist.
Photo: Courtesy of Zac Posen
Neckline: Asymmetric
Photo: Pinterest
Hairstyle: Side Bun
An asymmetric neckline is best when matched with an equally asymmetric hairstyle. Pearl details dress up a classic low bun.
Photo: Vanessa Jackman
Neckline: Off-The-Shoulder
Hairstyle: Faux Bob
An off-the-shoulder design is feminine and delicate. Infuse it with a bit of edge with a pretty faux bob and bold headband.
Photo: Pinterest