Flawless Skin For A Cause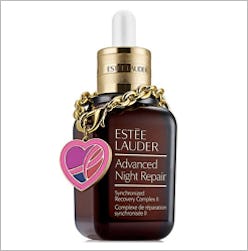 Reverse the majorly drab signs of aging while you catch your z's with Estee Lauder's game-changing Advanced Night Repair formula. Not only will you awake with a noticeably rejuvenated complexion, the purchase of this super-serum supports a seriously chic cause.
By investing in Estee Lauder's limited edition Advanced Night Repair serum—which comes with an adorable charm bracelet—20% of proceeds are donated to The Breast Cancer Research Foundation. Simultaneously reduce fine lines and awaken tired skin while contributing to a charity we love, it's a win-win! Check out all of Estee Lauder's pink ribbon products for a cause (we literally want everything).
Availability: Estee Lauder Pink Ribbon Advanced Night Repair ($92).