Bobbi Brown Launches Travel Sizes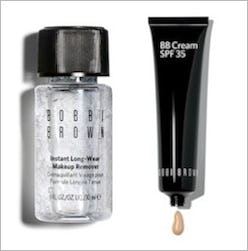 Though there to protect, the TSA can be a major bummer while traveling. Trading traditional moisturizers, makeup remover, and creams for random department store samples (or worse, hotel-provided products!) would throw anyone's epidermis into a tizzy. Luckily, Bobbi Brown has packaged some of her cult-favorite potions into miniature bottles. The Instant Long-Wear Makeup Remover, BB Cream SPF 35 and Soothing Cleansing Oil all clock in at 3 inches or less — meaning the TSA has no reason to snatch up your toiletries bag (unless that officer is taking notes for her personal stash, of course!). Now, if only this "less is more" approach applied to our checked baggage!
Availability: Bobbi Brown Long-Wear Makeup Remover ($12); BB Cream SPF 35 ($20); Soothing Cleansing Oil ($15).