10 Things Only Girls With Blonde Hair Understand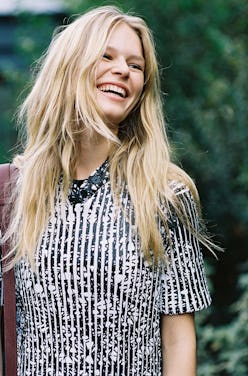 There are few things we love more than a head of gorgeous blonde locks, but maintaining it can be a serious pain (for example, chlorine is public enemy No. 1). Find out what other struggles girls with golden locks have. We'll let you decide if blondes really do have more fun.
Chlorine is public enemy No. 1.
And no, swimming caps are not trending. Life is so unfair.
Photo: Vanessa Jackman
Salons are your stomping grounds.
Scheduling vacations, date nights and major life events around hair appointments is totally normal.
Photo: Davines North America
Purple shampoo is a lifesaver.
Purple shampoo prevents brassiness, but if left in too long hair can look lavender. Basically, proceed with caution.
You do not lack common sense.
And yes, we're the only ones who can use the phrase "blonde moment."
Photo: Vanessa Jackman
Roots are public enemy No. 2.
If you're not a natural blonde, you know that roots look greasy and flat when they grow out. No bueno.
Photo: Courtesy of Preen
It's tough to save a buck.
Sometimes money is better spent at the salon–being blonde isn't cheap.
Photo: Getty Images
There are too many options in shades.
We don't want to be golden, honey, ashy, platinum or strawberry blonde–we just want to be blonde. Is that too much to ask?
Photo: @kristin_Ess
Preventing split ends is a science.
We have a stash of conditioners, masks, oils, serums and treatments, and it still never feels like enough.
Pink is off-limits.
"OMG, you look like Barbie" is not a compliment. Ever.
Photo: Vanessa Jackman
Blonde jokes aren't funny.
It's not because we're ditzy—we just don't know what's so funny about 2 blondes walking into a bar.
Photo: @gigihadid This post was updated from its original version on June 1st, 2015 at 12pm PDT.