Bite Beauty's High Intensity Lips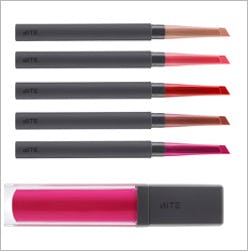 A bare lip never goes out of style, but we're always keen to interrupt a regularly scheduled au naturel moment for one that makes more of a statement. The latest duo from Bite Beauty does just that—say hello to highly pigmented color in a one-two punch!
Welcoming a Cashmere Lip Cream in 6 shades and Contour Lip Liner in 5 to their lineup, the latest from Bite Beauty offers a myriad of bold colors to punch up your fall beauty repertoire. We snagged top tips from the brand's fabulous founder Susanne Langmuir on how to use both new products to their full potential!
How to pair the two products together: "Achieve the perfect ombré lip! Choose a Contour Lip Liner, like Cabernet, and apply placing the tip vertically to your lip to create a thicker line. Choose a contrasting shade of Cashmere Lip Cream, like Sherry and fill in. Lightly feather the shades together using our Lip Brush."
Perfect lip liner application: To apply Contour Lip Liner, start by tracing the cupid's bow, then mirror the line on the lower lip. Work from the outside corners of the mouth to connect the lines. By always working upwards, you will never cut off the natural contour of the lip.
Color combos to try: – Cabernet Contour Lip Liner + Sherry Cashmere Lip Cream = a pink/orange ombré – Wine Contour Lip Liner + Rioja Cashmere Lip Cream = the perfect red lip!
Availability: Bite Beauty Cashmere Lip Cream ($28 each) and Contour Lip Liner ($24 each) available at Sephora.com.