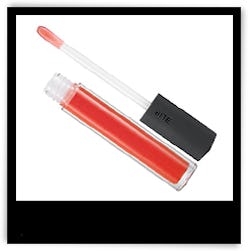 While we do our best to deny cravings for chocolates and other sweets around this time of year (to prepare for bikini season, of course), we see no reason to stop satiating our need for novel beauty-enhancing concoctions. Speaking of which, we are currently crushing hard on BITE Beauty's Cinnamon Plumping Lip Oil and highly recommend you consider it for your own prettifying program.
A nourishing, luscious treatment from the lip-centric brand, this note-worthy brew creates a soft cinnamon heat that naturally plumps, shines and hydrates in one zesty swipe. Oils from cinnamon bark and pink pepper stimulate circulation to plump your pout, while peppermint oils creates a soothing, warming sensation. Furthermore, pure jojoba and castor seed, argan and French olive oil provide the ultimate moisture for continued hydration throughout the day. Delicious enough to eat, BITE Beauty's Plumping Lip Oil is just the treat your pucker was looking for.
Availability: BITE Beauty Cinnamon Plumping Lip Oil ($22). For additional information, visit Bitebeauty.com.
P.S. Want a little more glamour in your Instagram feed? Follow@TheZoeReport for an exclusive look into RZ HQ!