I Tried A Luxury Scalp Facial To Cure My Dandruff — Here's What Happened
Sydney Shaffer/DigitalVision/Getty Images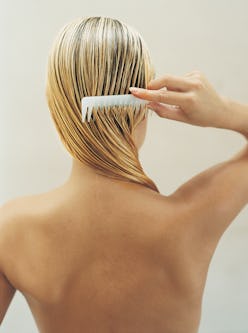 Standing Appointment is our review series that investigates the best new and notable cosmetic treatments in the aesthetics space and determines whether or not they are worth trying for yourself. This week, one writer tries Biologique Recherche's Dry Dandruff Balancing Treatment.
I don't have many qualms with my hair. In fact, over the years I have learned to ignore its considerable amount of frizz and instead focus on its more redeeming qualities, like its bounce and thickness. Despite my years of hot tool use, I've never put my hair through any coloring or harsh treatments, and for that, it's been fairly good to me. My scalp, on the other hand, is a completely different story. It's laden with dandruff that's completely noticeable on my jet black hair. The dry flakes live mostly along my middle part, but putting it up in a ponytail doesn't make matters any better, as even the sides of my head have those pesky white dots. I'm not surprised that my scalp is angry — the skin on my face and body is equally as parched and requires daily maintenance.
Thankfully, the beauty industry has seen an uptick in scalp-focused hair care as of late, and brands have definitely delivered — to an extent. I have tried a number of at-home treatments that have nixed my white flakes, but, alas, where one issue is solved, another is formed. Many of these products leave my hair feeling crunchy, sticky, and unable to be styled, making them in-conducive to my everyday routine. So, I figured it was worth a shot to pay a visit to a professional. I was surprised to see a hair treatment, the Dry Dandruff Balancing Treatment, offered at Biologique Recherche Los Angeles Ambassade, the boutique's US Flagship and one of my favorite spots in the city to get pampered. I knew I had to mosey on to Melrose Place to see if it could work any wonders on my scalp.
Ahead, I share my experience on the treatment and whether or not it helped my dry scalp.
Courtesy of Michelle Rostamian
Courtesy of Michelle Rostamian
What Is The Dry Dandruff Balancing Treatment?
Biologique Recherche Los Angeles Ambassade is a treatment-based salon that focuses on the face, body, and scalp. In the case of the Dry Dandruff Balancing Treatment, the scalp is the main focus, with targeted solutions applied directly to the skin to gently reduce flaking. "The Dry Dandruff Balancing Treatment is a non-invasive, relaxing scalp therapy service that helps balance the pH of your scalp and prevent dandruff," says Robby LaRiviere, the Los Angeles-based hairstylist who performed the treatment on me. "Biologique Recherche developed this as not only an in-salon service, but also something that can be performed from the comfort of your home as a weekly treatment."
My Dry Dandruff Balancing Treatment Experience
It wasn't my first time visiting this salon, but I always remain in awe of the beautiful waiting area. Walking in to the Ambassade, I was met with rustic herringbone floors, inviting French music, and tastefully executed gold accents sprinkled throughout. Each wall of the room features brightly lit encasements that house the brand's coveted products (in fact, they're so desirable that the display cases remain locked). I was offered tea, coffee, water, or Champagne while waiting in what felt like a hotel lobby, and then LaRiviere lead me into an area of the Ambassade I had never noticed before: a hair salon. The space fit one guest and is complete with a shampoo bowl, styling chair, and limited product displays that add to its minimalistic aesthetic.
Courtesy of Michelle Rostamian
Courtesy of Michelle Rostamian
My treatment began in the styling chair where LaRiviere gave my hair a thorough brush-through. We discussed my scalp issues as he analyzed my hair's overall health. Then, he gave me a quick rundown of how the salon approaches scalp care like it does skin care, with targeted treatments that are formulated to rectify the issue at hand (in my case, dandruff). My hair was then sprayed section by section with the Lotion P50 Capillaire, a scalp version of the famed Lotion P50 exfoliating facial toner. Just as the Lotion P50 helps balance the skin's pH level, the Lotion P50 Capillaire "helps exfoliate the dead, dry skin off your scalp and balance the pH of scalp," says LaRiviere. The product smelled of apple cider vinegar, but not offensively so, and its application was combined with a massage meant to stimulate oxygenation and blood flow in the scalp.
After sitting in my hair for about five minutes, I was brought to the shampoo bowl where my hair was cleansed and conditioned with the professional iterations of the Shampooing Traitant VIP O2, a richly lathering shampoo made specifically for those with a compromised scalp, and the Baume Capillaire, a shine-inducing conditioner that helps smooth out frizz. The conditioner was applied from the ends to the mid-shaft of my hair, and after combing it through my ends, LaRiviere prompted me to touch my stands — I was stunned with how silky smooth they felt.
Courtesy of Michelle Rostamian
Courtesy of Michelle Rostamian
Back at the styling chair, my hair was towel-tried and brushed through. Then, LaRiviere filled up a syringe's worth of the Complexe Cegaba + Bioproline, an anti-hair loss serum. He applied it across the entirety of my scalp — the top, front, and sides included. Then, he spritzed on Lotion Kéractive, a styling product that boosts shine and smooths away frizz and flyaways. My hair was blowdried to perfection with a Dyson blow dryer and I was off to revel in my newly rejuvenated scalp.
Courtesy of Michelle Rostamian
Courtesy of Michelle Rostamian
What Are The Benefits of The Dry Dandruff Balancing Treatment?
LaRiviere says that most hair problems are related to an imbalance of the scalp, which is exactly what this treatment focuses on. The hero product of the service, P50, contains the core "P50" formula as well as active ingredients that are specifically designed for the scalp. It comes with three main benefits, the first one being that it aids in exfoliation via apple cider vinegar. "Apple cider vinegar has a high content of tannins and offers purifying and astringent properties in addition to improving cellular renewal," explains LaRiviere. The formula also contains jujube extract derived from a Latin American jujube plant. "The extract gently removes scales, soothes itching, and restores the skin barrier," says LaRiviere. Finally, P50 is responsible for moisturizing dry areas while purifying greasy areas thanks to burdock extract. Scalp massages are also a big part of this treatment, which helps promote circulation to nourish the hair follicles.
My Results
I typically wash my hair one to two times a week. Usually, by day four I'm met with those white flakes and tons of itchiness, which is my cue that it's time to give my hair and scalp a wash. I told myself I would resist washing my hair in the days after my treatment because I was curious to see how long it would take for the dry flakes to rear their head. On day eight, I still found myself waiting for white flakes to form and I saw zero. My scalp was also not itchy at all, which shocked me. I ended up washing my hair on day eight because, well, hygiene, but I was thoroughly impressed that my hair felt good as new after going this long without shampooing it.
The treatment definitely cured my dandruff in the short-term, but my next test was to see how my hair responded after cleansing and styling it on my own with the products I typically use. After washing my hair, I blow dried it as normal and used my typical products (the Drybar Liquid Glass Miracle Smoothing Sealant and a strong-hold hairspray). After a few days I noticed some white flakes pop up, but nothing close to how my hair normally is after this duration. I'm looking forward to using the Lotion P50 Capillaire as part of my normal hair care routine at home to keep flakes at bay.
My Takeaway
The treatment costs $200 for a 60-minute customized scalp facial inclusive of hair styling services. While this is definitely on the pricier side and you can simply purchase the products for at-home use from the jump, I personally found it extremely beneficial to receive first-hand instructions and recommendations for how to properly use them. I learned how to customize the product usage based on my specific hair type, and I enjoyed the entire experience as it involved learning about why I'm getting dandruff in the first place and how the products are formulated to help. If you're someone who is struggling with a dry scalp and are desperate for a solution, I highly recommend this treatment.