Team Zoe Beauty Pick: Marisa Runyon's Miracle Oil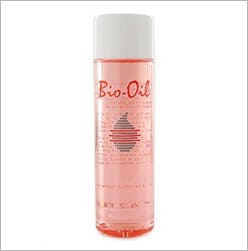 We'll always obsess over the latest, hottest products but sometimes the best beauty finds are the ones your friends, colleagues, and family members get you hooked on by chance. In this new series, the Team Zoe ladies spill on the lotions and potions they can't live without – new or old, super affordable or total splurge.
Team Zoe staffer: Marisa Runyon , Director of Brand Partnerships
Beauty pick: Bio Oil; an affordable, dry mineral oil launched in 2002.
How she discovered it: "Four years ago I burned my arm pretty badly while cooking. I love to cook, and I'm also terribly clumsy – the lasagna I made that night was delicious, but my arm was a mess! I bought any and every product that I'd heard was great for scars, and I tried them all. Someone recommended Bio-Oil to me, so I immediately bought it."
What it's good for: "It's marketed as a "multi-use" skincare oil, which is vague, but so true! After I used it to help with my burn scar, I kept using it for other things. I have slathered it on winter dry skin, to remove eye makeup when I run out of remover, and it even healed a mysterious dry patch that I had on my face once. It's even recommended to prevent and treat stretch marks, so my friends with children swore by it while they were pregnant!"
Why she loves it: "For so long, so many beauty and skincare products were oil-free and now I think we're are starting to understand that our skin does need some oils, just the right ones. I never even dreamed of using oil on my skin until I moved to LA where the dry climate takes a toll even on my slightly oily skin. I also love that it smells amazing – super fresh and clean."
Availability: Bio-Oil 4.2 oz, $20