Beyoncé's Brow Artist Shares All His Best Tips
Getty Images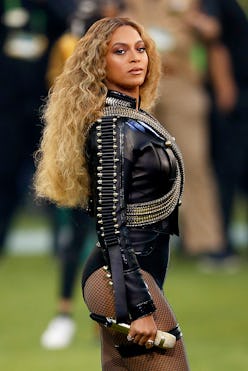 Sure, Beyoncé was born with it all: incredible skin, full lips and killer cheekbones. But no matter how genetically blessed one can be, we all could use some help in the eyebrow department. And because behind every amazing set of brows there is a talented artist, we caught up with brow guru Damone Roberts, who is responsible for the best arches in Hollywood (including those belonging to Ariana Grande, Alicia Keys and Queen Bee herself), not to mention the man behind MAC's latest Brows Are It collection. Here, get all his top tips for plucking, waxing and filling in your brows like a pro.
Brows Like Bey
Never Copy Someone Else's Brows
"I don't believe in stencils. You can't give everyone the same exact cookie-cutter eyebrow. You have to use them to bring out their best personal features. For example, if a woman has a long chin, I wouldn't recommend a high arch because it would make her face appear longer—a straighter arch would suit her better. A woman with a chiseled jawline would benefit from rounder brows to soften her look, rather than a dramatic arch."
They Should Be Twins
"People say that brows should be sisters, not twins. I disagree. Whether you wax or tweeze, they should always start in the same spot, arch in the same spot and end in the same spot."
Use The Best Products For Your Brows
"If you use a powder on fuller eyebrows, it looks a lot softer. Pencils are better for thinner brows because they can create the look of hair that isn't actually there. If you want to just groom your brows and keep them in place all day, use a clear gel or opt for a tinted one for a natural look. Gel pots give you a dramatic final look."