Magic Wands: The Best Mascara Brushes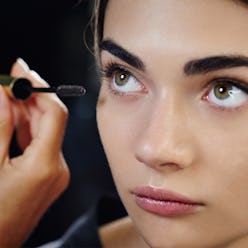 When you're wandering from beauty counter to beauty counter trolling for the latest and greatest mascara, are you taking wand types into consideration? You should be! It's important to remember that although the formula and color are super important, the brush is the key player in this game. From full, fat bristles to teeny-tiny brushes, these innovative mascara wands really get the job done. Shop our favorite options on the market.
Fullest Lashes
The wide, thin-tooth comb on this wand works as a detangling brush to seperate each lash for an ultra-full, defined, fanned-out look.
Curly Lashes
This wand is made to mimic the shape of the curl you want in your lashes: Wiggle at the lash line and extend through the ends in a curling motion for the most elongated bend.
Defined Lashes
The shape of this wand is an essential part of the magic of this product: The S-shape allows you to reach every lash without slipping and leaving an annoying black mark on your nose or brow bone. And the effective brush deposits a heavy coat of mascara on even the tiniest hairs, while the long bristles seperate every lash.
Voluminous Lashes
This innovative wand has 2 types of bristles for extra volume, sans unsightly clumps. The black section dispenses the perfect amount of mascara, while the white bristles stretch and separate lashes.
Thickest Lashes
Dense, chunky bristles plump and thicken each lash with a hefty dose of mascara.